The AB InBev Foundation
The harmful use of alcohol has negative effects on both individuals and communities around the world. Yet, existing programs and policies designed to address this problem have been under-resourced and limited in scope, reach, implementation diversity, and level of collaboration. The result is an implementation gap in many high-, middle-, and low-income countries. Existing programs and policies also have limited opportunities to report on why some interventions work, and why some do not.
In response to this ongoing global problem, AB InBev established its Global Smart Drinking Goals. As a commitment to supporting United Nations Sustainable Development Goal 3.2 and a parallel World Health Organization goal, one of the Global Smart Drinking Goals is reducing the harmful use of alcohol by at least 10% in six cities by the end of 2020, and implementing the best practices globally by the end of 2025.
AB InBev established the six City Pilots in: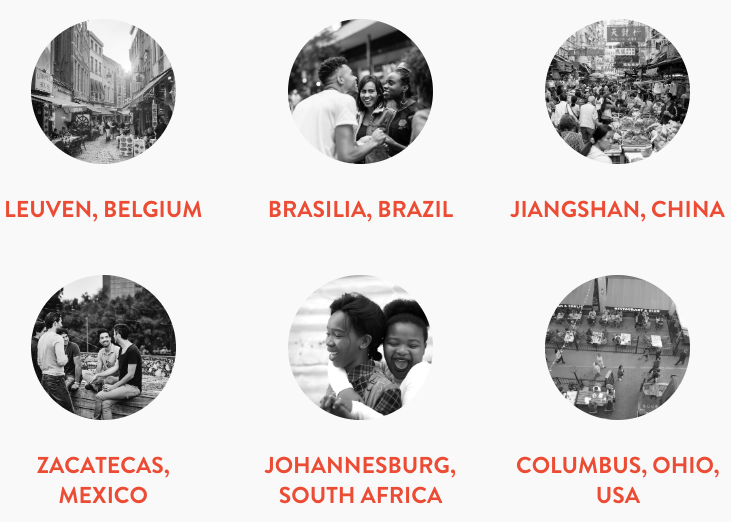 The City Pilots serve as laboratories to identify effective interventions that are worth scaling, and how to scale them.
Two years after the launch of the Global Smart Drinking Goals, AB InBev created the AB InBev Foundation with an initial pledge of $150 million USD over 10 years to bring scientific rigor to the work of the goals, with a primary focus on the City Pilots program.
The AB InBev Foundation is building a network of organizations and world-renowned public health, community development, prevention science, evaluation, and alcohol experts. We are led by a management team with extensive experience and expertise in community-led interventions, public health research, health systems, social marketing, programs and policy, and evaluation.
The Global Smart Drinking Goals
Changing Behaviors Through Social Norms
CITY PILOTS
Reduce the harmful use of alcohol by at least 10% in six cities by the end of 2020.
Implement the best practices globally by the end of 2025.
SOCIAL NORMS
Influence social norms and individual behaviors to reduce harmful use of alcohol by investing at least $1 billion USD across markets through dedicated social marketing campaigns and related programs by the end of 2025.
Empowering Consumers Through Choice
NO- AND LOW-ALCOHOL BEER
Ensure no- or low-alcohol beer products represent at least 20% of AB InBev's global beer volume by the end of 2025.
ALCOHOL HEALTH LITERACY
Place a guidance label on all beer products in all markets by the end of 2020. Increase alcohol health literacy by the end of 2025.
Mission, Vision, Values
Our mission is to accelerate the reduction of the harmful use of alcohol globally. We fulfill our mission by supporting collaborations between academia, governments, the private sector, and civil society to identify and implement programs and policies designed to reduce the harmful use of alcohol.
Our vision is to test and ultimately share a proven model of collaboration that achieves a meaningful public health benefit. In this case, that public health benefit is a reduction in the harmful use of alcohol that can be translated across diverse communities and shared with stakeholders around the world.
Our core values guide our work every day:
We value transparency.
We are transparent about our model of collaboration and the interventions that we support.
We ensure that evaluation data are made available for individual interventions and the City Pilot programs.
We share our challenges and our successes.
We value collaboration.
We bring relevant stakeholders together in service to identify, implement, and scale evidence-based ways to reduce the harmful use of alcohol.
We reach across sectors and perspectives to identify methods that work.
We value local leadership.
We connect global solutions with local knowledge to incite community action.
We strive to leave a positive legacy in the communities where we work.
We value rigor.
We insist on strong design and evaluation of interventions.
We ensure scientists own their intellectual work.
We encourage the publication of all findings.
Who We Are
Global Staff
Allison Goldberg, PhD
See Bio
Allison Goldberg oversees the execution of the Foundation's strategic vision and mission while testing new models for cross-sector collaboration. Before assuming this role, she served as the Vice President of Strategy & Programs at the AB InBev Foundation. Allison was previously the Director of Global Corporate Affairs at AB InBev corporate where she worked across the company and with outside experts to develop the architecture and strategy of the Global Smart Drinking Goals and the Together for Safe Roads initiative, a crossindustry coalition that works to improve road safety worldwide. She also worked at Abt Associates, a consulting firm, and held research positions at the International Center for AIDS Care and Treatment Programs (ICAP) at Columbia University. Allison is a 2015 Aspen Ideas Festival Scholar and holds an academic appointment as Lecturer at Columbia University where she teaches a course entitled, "Global Intractable Challenges: Innovations, Frameworks, and Change." Most recently, she was appointed as the co-chair of the National Academy of Medicine's Public Private Partnership committee.
Allison earned an interdisciplinary PhD in Public Health and Political Science from Columbia University and a BA in Political Science from the University of Michigan.
Catie de Montille, MEd
Senior Communications Manager
See Bio
Catie de Montille fulfills the Foundation's commitment to transparency through cross-channel communications. She comes to this role with more than a decade of experience in designing, directing, and implementing integrated marketing and communications strategies for a range of corporate, foundation, government, and non-profit organizations. Catie previously led the Digital & Social Media practice at ICF, a global consulting and technology services company. She specialized in providing digital marketing counsel for clients in the public health sector, including both government and private sector clients. Prior to ICF, she was Vice President in Weber Shandwick's Social Impact Practice, a specialized team within the global public relations firm, where she advised on strategic communications and engagement at the intersection of corporate social responsibility and sustainable innovation. She has previously served as a guest instructor at George Washington University.
Catie earned her M.Ed. in Organizational Leadership and B.S. degrees in both Psychology and Human and Organizational Development from Vanderbilt University.
Courtney Burks, MPH, MA
Director of Finance & Operations
See Bio
Courtney Burks serves in a dual technical and managerial role to facilitate successful collaborations across sectors and to support implementing partners in program planning and implementation in all six City Pilots. She also oversees the Foundation's financial and operations functions. Courtney previously worked as a Country Lead on the President's Emergency Plan for AIDS Relief (PEPFAR) at the U.S. Department of State where she developed and managed large-scale, multi-million dollar HIV/AIDS programs across sub-Saharan Africa and Latin America. Courtney also worked at Partners in Health in the Dominican Republic and Haiti, and worked as a staff member on educational and community engagement programs at Stanford University School of Medicine. She has previously served as a guest instructor at Harvard Medical School and has conducted consultancies with the Population Council and the World Bank.
Courtney holds an MPH degree and an MA degree in Latin American Studies from the University of California, Los Angeles and has a BA in both Spanish and International Relations from the University of California, Davis.
Tom Achoki, MD, PhD
Director of Research & Evaluation
See Bio
Tom Achoki manages the relationships and activities in the Foundation's research and impact measurement portfolio. He cofounded Mass Sciences, a Boston-based health data analytics startup focused on improving efficiency in healthcare systems. Previously, Tom was a Sloan Fellow at the MIT Sloan School of Management, and prior to that he served as the Director of African Initiatives and a Clinical Assistant Professor at the Institute for Health Metrics and Evaluation (IHME) at the University of Washington.
Tom is a medical doctor with a specialization in public health (MPH) and tropical medicine (DTM&H) from the University of Pretoria in South Africa. He also completed a PhD from Utrecht University in the Netherlands and an MBA from the MIT Sloan School of Management.
Veronica Martin
Administrative Coordinator
See Bio
Veronica Martin has a background in event planning and administration in both the corporate and nonprofit fields. She is a living kidney donor who enjoys attending events to promote organ donation advocacy and Alzheimer disease awareness, working with kids, and spending time with her grandchildren.
Veronica is a Washington, DC notary public and is attending the New York Institute of Art and Design to obtain her certificate in Event Planning.
City Pilot Staff
Benjamin Zhou, MA
Jiangshan City Pilot Program Officer
See Bio
Benjamin Zhou is responsible for overseeing the execution of all Foundation-supported programmatic activities in the City Pilot. Prior to this role, he was the Jiangshan City Pilot's Steering Committee Coordinator. Before joining the Foundation, Benjamin worked in China's English TV news scene for almost 11 years, serving from a front-line reporter to a behind-the-scenes producer. This experience provided Benjamin with a deep understanding of Chinese politics and culture and the skills to navigate crossborder and crosscultural exchanges.
Benjamin earned an MA in Media and Cultural Analysis from Loughborough University in England and a BA in Advertising from Shanghai International Studies University.
Elena Cardenas Vargas, MS
Zacatecas City Pilot Program Officer
See Bio
Elena Cardenas Vargas oversees execution of all Foundation-supported programmatic activities in the City Pilot. Prior to this role, Elena was the Zacatecas, Mexico City Pilot Steering Committee Coordinator. She has more than 20 years of consulting experience with expertise in process development, project management, and a variety of technologies, models, and methodologies such as BPM, SOA, CMMI®, MoProSoft, Project Management, Knowledge Management, and Change Management. Elena has worked with clients across sectors, from IT to finance and retail. Prior to consulting, she worked for Deloitte and PricewaterhouseCoopers in Mexico.
Elena earned an MS in Computational Sciences and a bachelor's degree in computer systems engineering from the National Autonomous University of Mexico.
Thokozile Budaza, MPH
Johannesburg City Pilot Program Officer
See Bio
Thokozile Budaza is the Johannesburg City Pilot Program Officer. She is also the Managing Director at Transitions Foundation, an after-school program that helps improve the educational performance of young South Africans. For the past 15 years, she has worked throughout Southern Africa to advance public health models by working for a variety of international organizations including Open Society Initiative for Southern Africa (OSISA), the Global Call to Action Against Poverty, CIVICUS, Action Aid, Soul City Institute, and more. Thokozile also served as an executive on the board of the Sonke Gender Justice Network from 2006 to 2010.
Thokozile has received a variety of accolades for her work, including a White Ribbon Award in 2006 from Women Demand Dignity and served as a 2016 Mandela Washington Fellow, a program under former President Barack Obama.
Thokozile holds an MPH from the University of the Western Cape as well as a BSc in Biotechnology from the same institution, a BA Honours degree in Population and Demography from Witwatersrand University, and an Advanced Health Management Diploma from the Foundation for Professional Development in affiliation with Yale School of Public Health.